In deep mourning the Rhein-Ruhr-DX-Association has to announce that Walter, DJ6QT, has become silent key. Walter was a founding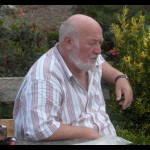 member of the RRDXA and was president in various phases of the club. He was in the RRDXA Hall of Fame as well as the CQ-Contest Hall of Fame.
Walter not only received international merits through his regular contribution to WRTC, as he attended each and every WRTC either as a contestant or referee. He was looking forward to WRTC 2018 in Germany, an event was now not granted to attend.
Walter received additional international merits through his various DXpeditions, most of them to Africa. He was very proud of the fact, that he financed all of his DXpeditions out of his own pocket, thus not requiring any grants.
At his home-QTH in Hirzenhaim (Germany), as well as in Santana (Madeira), Walter has set up and maintained competition-grade stations, regularly winning in major international contests.
With Walter, DJ6QT, we have lost a most valuable radio friend and an engaged contributor towards club discussions. The Rhein-Ruhr-DX-Association will honour his memory forever.